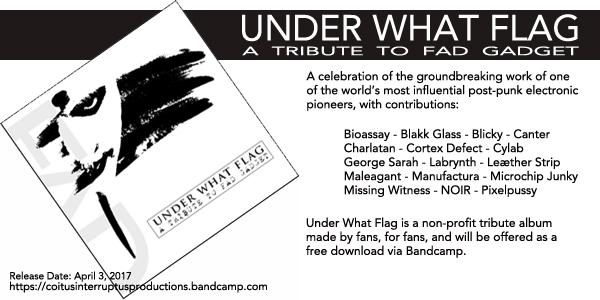 We are extremely happy and honoured to be included on this release! You can get it from Coitus Interruptus Productions on April 3 as a FREE download via Bandcamp!
Can you hear me? Are you receiving?
After making his debut live appearance at the Moonlight Club in London on July 18th, 1979, Frank Tovey, a.k.a. Fad Gadget, went on to become one of the world's most influential post-punk electronic pioneers, leaving behind an underappreciated yet profound trailblazing musical legacy.
Under What Flag is a musical homage and tribute to Fad Gadget that partly aims to express the gratitude of the diverse electronic musicians Tovey impacted the most. Organized by Chris Halstead (DJ Seraphim) for Coitus Interruptus Productions, Under What Flag additionally serves as a celebration of the groundbreaking work of the late Frank Tovey (1956-2002).
Fad Gadget's avant-garde approach to electronic music, along with biting social commentary of the period, are all the more relevant now given today's caustic political climate.  The disposable culture that Frank sang about in the early 1980s is even more alarmingly alive today and this compilation is a meditation on the acerbic worldview as addressed by Fad Gadget. Under what Flat is a non-profit tribute album made by fans, for fans, and will be offered as a free download via Bandcamp.